Hulk Hogan?  Really?
Yes.
But let's start with the inspiration that allowed me to become aware of this wisdom in the 1st place.
It happened at an usual time.  Sunday, 2:47 AM.  My 10 month old son, Jackson, woke up, and after a few minutes of non-stop crying it was clear he needed my help.  I would have loved to stay in bed, but this was not an option.  I knew he was hungry and so I got up and made him a bottle.  Jackson is our 1st child, and my wife and I have been BEYOND EXCITED since the day he was born.  I sometimes struggle to find words that accurately describe how it feels, having a son.  I usually go with AWESOME!  But being a parent is no joke – and adjusting to the new roles, routines, and responsibilities has not always been easy.  On a relative basis, waking up at 2:47 AM to feed Jackson is not a huge sacrifice, but nonetheless it is a sacrifice.  So as I was feeding Jackson the other night I couldn't help but think about all of the sacrifices my father made for me growing up.  He made a lot for sure, but one in particular stands out.  This is where Hulk Hogan comes into the story.
It is a fact that in 1990 the 2 biggest WWF Wrestling fans were myself and my best friend Kevin.  We were 10 years old, and the only thing that really mattered to us was WRESTLEMANIA VI.   It was bigger than school, it was bigger than sports, it was bigger than Christmas!. Being at this event was essential to our survival (slight exaggeration,) so we went to work convincing my Dad to take us.  Somehow it worked!  He definitely deserves a medal for this sacrifice, and to this day Kev and I still tell him we owe him BIG for the rest of our lives.  Not only did he shell out a lot of money for the tickets, airfare, hotel in Canada, but he also had to spend an entire weekend with over 60,000 screaming WWF lunatics.  Not exactly his cup of tea.  But he got us there.  And he did so despite some challenging circumstances.  Just 2 days before the trip I came down with what we thought was chicken pox, and the concern was that the airline crew wouldn't let me on board in this condition.  So the trip would have been over before it even started, but my Dad stepped up BIG.  He said there was NO WAY this was going to derail our plans and he devised a simple but brilliant strategy – bundling me up in as many clothes as possible, including winter hats and scarves.  As long as they couldn't see my skin we would be fine.  It was quite the scene, but somehow it worked, and we got into Canada.  
On 4/1/90 the 3 of us got to witness the greatest wrestling spectacle ever.  WRESTLEMANIA VI.  Actually just 2 of us witnessed it.  My Dad fell asleep halfway through – but given all he did to get us there we didn't give him a hard time.  Once again – thanks Dad!
The main event lived up to all the hype:  Hulk Hogan & The Ultimate Warrior battled it our for over 25 minutes, and in the end The Warrior pinned Hogan which I was happy about.  History was made in the ring, and we got some memories that have and will last a lifetime.  
Ok, back to Hulk Hogan helping people in recovery…
The Hulkster had a number of famous 'sayings' that were incorporated into his larger-than-life persona.  I personally think they are all great, but I particularly like the advice he gives to all of his 'HULKAMANIACS:'    He tells them to "TRAIN, SAY YOUR PRAYERS, & TAKE YOUR VITAMINS."
So is Hulk Hogan providing us the magic formula for recovery?  Unfortunately no, this formula does not exist.  But what he is providing us with is a framework for a healthy behavioral routine, & healthy behaviors are critical in early recovery.  Why?  Apologies in advance for going into 'clinical mode,' but this stuff is important.  In early recovery your brain chemistry is changing back to what it was before you used mind altering drugs, so in the beginning your thinking is clouded.  Have you ever tried to OUT THINK ADDICTION?  It's a recipe for disaster, because the 'newly-sober' brain is weak & vulnerable.  If this were a wrestling match, here's what it would look like.
VS.
What happens?  ADDICTION WINS EVERY TIME.
Will this ever become a fair fight?  YES!  The good news is that your brain CAN RECOVER.  It just takes time.
How do we do this?  1) Don't try to out-think addiction – give your brain a break.  2) Take Hulk Hogan's advice – focus on healthy behaviors.
Here are some good examples of healthy behaviors but I encourage you to find some that work for you:
Exercise, prayer, read literature on recovery, make a resolve, volunteer, talk with family & friends, attend 12-step meetings.
Recovery is by no means an easy journey, and a comprehensive recovery program includes more than just a list of healthy activities. But this is the starting point.  If you engage in these behaviors for just a few minutes every day you make it harder for the irrational thoughts & impulses to dominate you.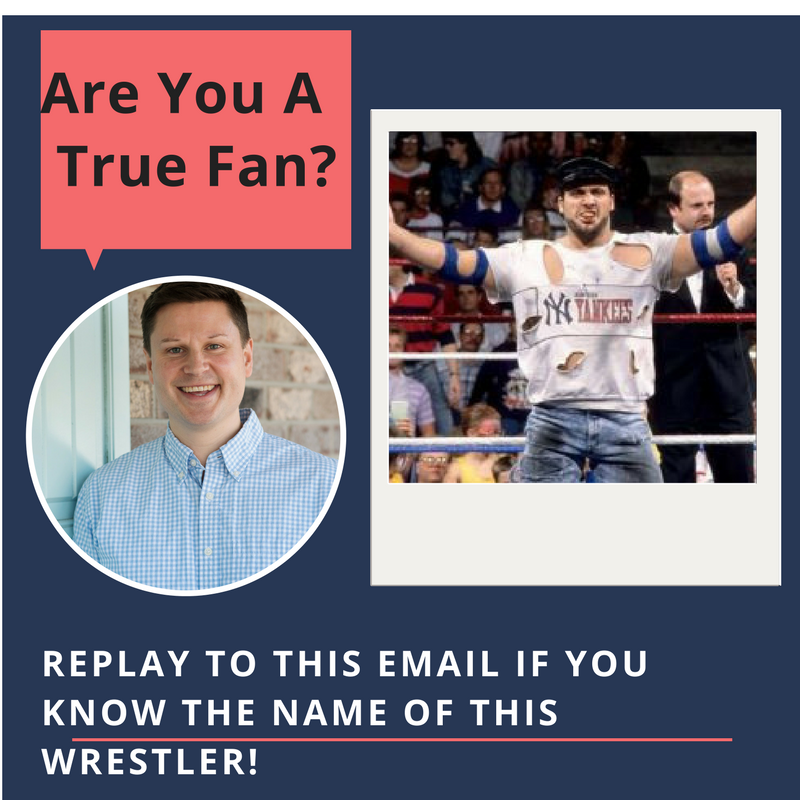 Thanks for reading – I know I was all over the place with topics:  Fatherhood / sacrifice / WWF Wrestling!  It was fun for me to reflect on a childhood memory & find a connection to the work I am doing as an adult.   Hopefully you found it meaningful as well.
Talk to you soon,
Jeff Burgdorfer LPC CAC
jeff@hffrc.com